The only canyoning base in the Aosta Valley
Our operations center
The operational base is located in the small town of Champdepraz, just 5 minutes away from the motorway exit of Verrès(AO) and at the gate of the beautiful Mont Avic Park.
After leaving your car in the parking near the base, all you have to do is enjoy the experience, cause we'll take care of the rest!
In fact, this is a space dedicated to you, to make it easier to prepare for the descent.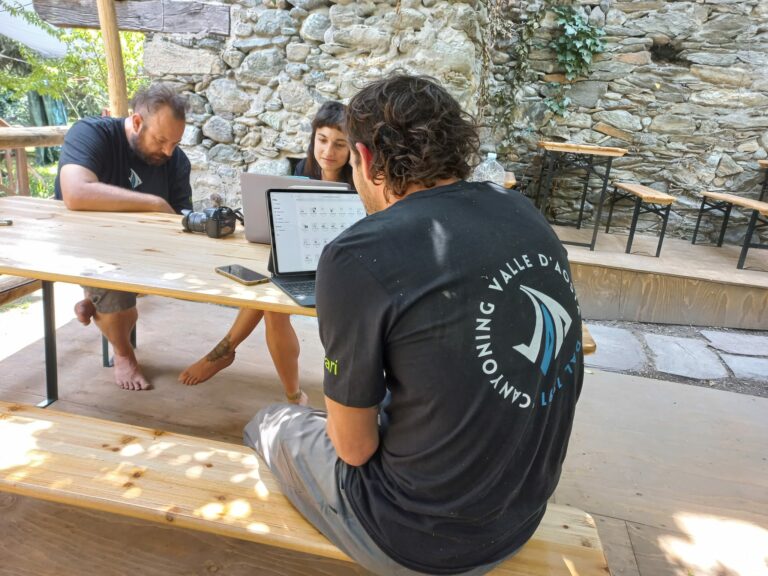 After welcoming you, our team will provide you with all the equipment you need for a safe descent: 5mm neoprene wetsuit and socks, helmet and harness.
Once you're ready, our guides will give you a security briefing: this is a very important part of the day, as you will be taught the first notions of safety and behavior in the canyon.
Once the preparation is finished, with our shuttle we'll approach the entrance of the canyon, where your adventure will begin!
Our center reflects our love for nature!
We try to avoid waste and let's try to recycle as much as possible waste materials such as ropes and wetsuits, but also products such as cans that unfortunately we happen to collect, and we take advantage of what the mountains and the river give us.
HELP US RESPECT THE MOUNTAIN!
When you arrive in the village of Champdepraz in the Fabbrica district, you will find yourself at a curve and the Post Office is in front of you; turning right you will be at the parking and you can walk to our base which is just a few steps away continuing on the road that climbs towards the Park.